Blasphemy: A Memoir, Sentenced to Death over a Cup of Water was published by Chicago Review Press in 2013. It is the story of Assiya Noreen, often known in the media as Asia Bibi. The book's title offers the most reasonable and direct introduction to the book's matter. So let us be more circumspect in our approach.
Whoever you are and wherever you might be, is it possible that you are not universally appreciated by your community?  Is there something about you that others might not like? Do you dress, act or perhaps think differently in some way that might cause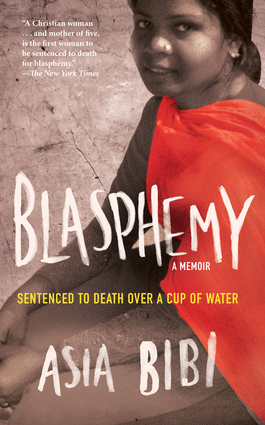 alienation? Have you ever spoken or written a stray word  or phrase that irritated others? How might you feel about finding yourself in prison – any prison, anywhere – based on just such issues?
In 2009 Asia Bibi was not only in a Pakistani prison, she had also be sentenced to death.  She secretly passed her story through intermediaries to Anne-Isabelle Tollet. It's a small book but it's an enormous story. Too much story to try to convey it well in a brief article such as this.
So why review this book today? A Pakistan court recently upheld Asia Bibi's acquittal and she'd like to leave Pakistan after having spent ten years in jail – a reasonable desire, given that a great many of her fellow citizens would like to see her dead. Her children would like to see her join them in Canada. I'd rather like to know that the Canadian government is doing a great deal to encourage that. Wouldn't you? Prime Minister Trudeau has been quoted as saying, "There is a delicate domestic context that we respect which is why I don't want to say any more about that, but I will remind people Canada is a welcoming country."
As a website focussed on the interests of the average person's experience of freedom of expression, we hope we can be forgiven for being underwhelmed with Mr. Trudeau. Delicate domestic context? Oh, my. Such a delicate grasp of human rights this national leaders seems to have. Asia Bibi, an agricultural worker who picked berries to help her family get by, was imprisoned and sentenced to death over a cup of water. This is not "delicate". This is brutal. This is violent. This is desperate. This is an outrage.
A memoir from a woman currently waiting out her death sentence in a Pakistani prison

In June 2009 a Pakistani mother of five, Asia Bibi, was out picking fruit in the fields. At midday she went to the nearest well, picked up a cup, and took a drink of cool water, and then offered it to another woman. Suddenly, one of her fellow workers cried out that the water belonged to Muslim women and that Bibi—who is Christian—had contaminated it. "Blasphemy!" someone shouted, a crime punishable by death in Pakistan. In that instant, with one word, Bibi's fate was sealed. First attacked by a mob, Bibi was then thrown into prison and sentenced to be hanged. Since that day, Asia Bibi has been held in appalling conditions, her family members have had to flee their village under threat from vengeful extremists, and the two brave public figures who came to Bibi's defense—the Muslim governor of the Punjab and Pakistan's Christian Minister for Minorities—have been brutally murdered. In Blasphemy, Asia Bibi, who has become a symbol for everyone concerned with ending an unjust law that allows people to settle personal scores and that kills Christians and Muslims alike indiscriminately, bravely tells her shocking and inspiring story and makes a last cry for help from her prison cell. Proceeds from the sale of this book support Asia Bibi's family, which has been forced into hiding.


Chicago Review Press
Though this post is ostensibly a book review – it is also an article of news, a reminder of the purpose of this website and a call to action. Write letters to your MP, the Prime Minister and the Minister of Global Affairs seeking something more than an appreciation of the delicate environment of global politics. Perhaps, also, look to what can be done to shore up protections of freedom of expression. After all, is it possible that you may have spoken a word or taken an action that set you apart or offended some others? Asia Bibi, but for the grace of secular human rights law, could be you.
The Berry Fields (a poem, written about 2015)
Beneath a sweltering sun
Amid the fanatical shun
The berry fields give forth their bounty of hate
Locked away from her children
At the mercy of submission's men
Asia suffers for the ghosts of ideology
Through my good days and bad
Though I've been happy and sad
I've never had a thirst that put my life at risk
Every prophet and saint
Carries the same taint
Blood-lust and politics to force their authority